A Kitchen Renovation on a Budget
"Kitchens and bathrooms sell houses" they say.
This is what inspired us to finally get our acts together and make a start on our kitchen renovation. I initially had grand old plans to actually knock out a wall, turn it into a wall of glass windows that allowed a nice indoor outdoor flow - but when we realised how much this would actually cost, it was decided that a budget renovation could achieve the same result for far less investment!
Our total budget for the renovation was $5,000. Here's what we got/achieved with $5K
New Splash-back tiles: We purchased a beautiful icy blue tile from Beaumont Tiles and decided to do our own tiling.
Grout: A nice slate grey which we hope will be easier to keep clean that white!
Silicone: The hardest thing to do in the kitchen BY FAR and it almost broke us.
Brand new Westinghouse Stove, Oven, Rangehood: These were from the Good Guys and we actually did get a good deal! It was about $2000 for the lot!
Ceaser Stone Bench top: We hunted around for a LONG time trying to figure out whether we go with Laminex or stone, in the end we found a super cheap option online to order the stone from, a man named "Stavros" came over an installed it for us. All we had to do was measure up the kitchen and make sure the old bench top was taken off before he arrived.
Cabinet Lacquer Paint: This took some time, we even tried a spray gun which went horribly wrong and wasted about 4 hours
Door Knobs: Cheap little black things found at Bunnings!
New sink and taps: Again from the Good Guys
Pendant Lights: These are my favourite thing in the kitchen. They are designed by MUUTO and I found them from Finnish Design Shop
Chalkboard Paint: A new favourite from Dulux. It's a lot of fun and we can put our to-do lists, shopping lists and sweet notes on it!
The rest was just elbow grease, some late nights and a few swear words.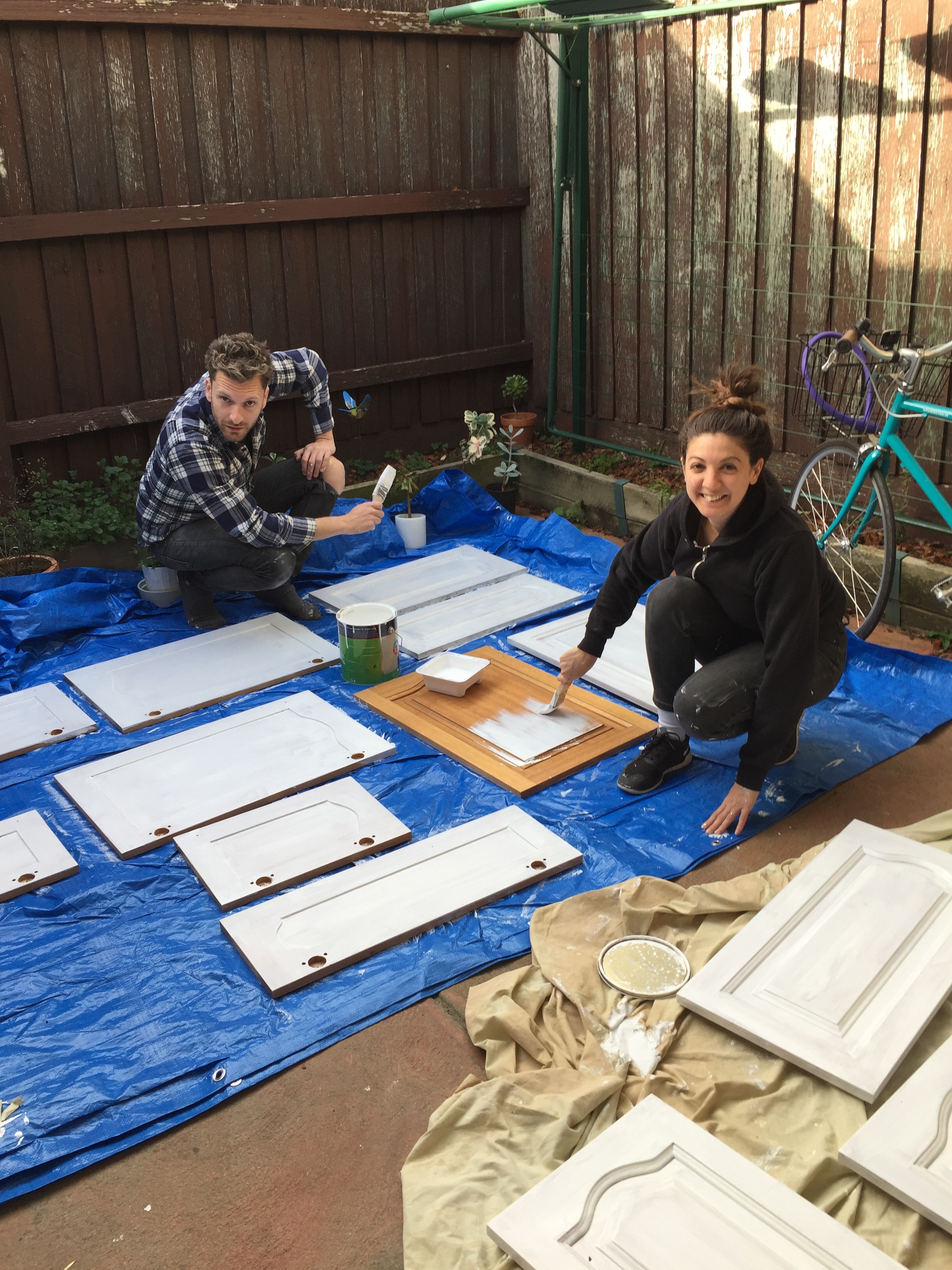 I would have LOVED to just rip everything out and start again (which is my usual method) but was talked into keeping the original kitchen cabinets we had because they were actually really good quality. I guess they don't make 'em like they used to hey?
Here's what we did to achieve a new kitchen in under $5,000.
Removed all of the doors off the cupboards and sanded all the old varnish completely off. Time: 2 days
Painted all the doors with a brushed coat of primer. Time: An evening after work.
Gave ALL the doors their second coat of primer: Time: An afternoon
Gave ALL the doors their first coat of paint, waited 24 hrs and then gave them a second
Removed all of the old appliances
Unscrewed the old bench top and sink
Put the new handles onto the doors and cupboards
Took off the bench-top and made way for the new one to be installed
Put all the cupboards back onto their rightful cabinets
Installed the new benchtop
Put in the new sink, stove, oven, rangehood
Tiled the splashback
Grouted and siliconed the splashback
Installed our pendant lights with the help of a dear friend
Plastered the holes we made in the roof to connect the new lights (Still in progress)
PHEW. That's it. It took a total of 1 month from start to finish. Most of what we did was achieved after work or on the weekends which is why it took so long. If we were on the block we could have smashed it in a few days.... but hey this is REALITY.
I learned so much in this process, too many things to mention but am up for answering any questions anyone has! Throw 'em at me and I will tell you just how we did it.
The biggest thing was that it was a lot easier than we first thought. It's very daunting to imaging ripping apart your kitchen and piecing it all back together again, but as soon as you start, you realise it's so achievable! You also realise there are a lot of little things you didn't consider to start with. Haha, oh the fun.